Designing My Own House
I've been practicing designing a house. Well, mostly, drawing floor plans. It would be in the Bay Area in California if it ever gets built. Drawing out floor plans helps me put my ideas in order. The floor plans seem to take second place to the rules, though. There is one set of rules. There are many floor plans that will satisfy them. I don't know the dimensions or slope of the final lot, so no floor plans I come up with now can be final. So, I'm writing down the rules here so I can remember them when it comes time to draw up the real design.
It turns out that house construction costs $300 per square foot in the Bay Area. Add to that the cost of land and propery taxes, and we're looking at $2,400,000 to build this, with $30,000 in property taxes per year. I don't have anywhere near that kind of cash, so this is an entirely pointless exercise.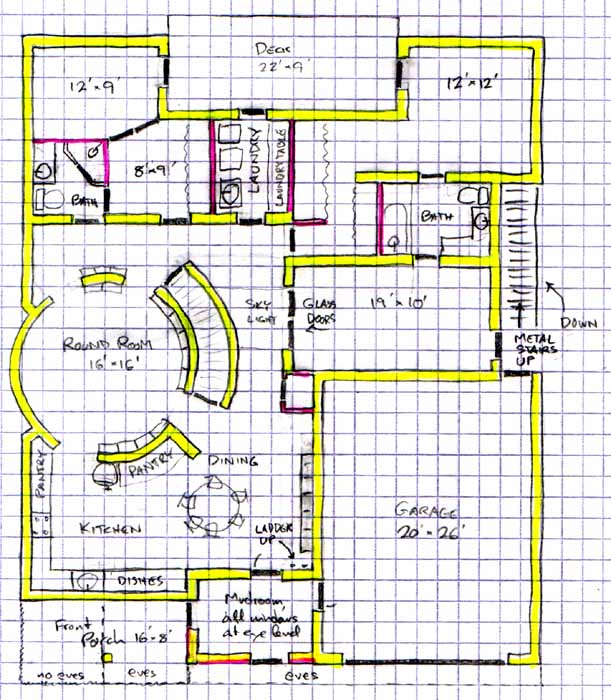 ---
More updates: I joined Microsoft and bought a house in Redmond, Washington. My hard requirements were that it be close to work (under 30 minute commute), big enough for us and guests (5+ rooms people could sleep in), and no balconies my son could climb off of and fall to his death (he demonstrates this to be a real issue daily). Justine had additional requirements: modern construction (1985+), very little street noise, and over 2700 square feet. Our first week we saw everything on the market under $1 million within a 30 minute commute, and nothing satisified the requirements. The second week we got one match so we bought it.
The new house was under construction, so I was able to eliminate the two-story open spaces. But I couldn't do anything about the 10' ceilings, wooden walls, wood shingle siding, washer/dryer not against an outside wall, no basement, and a water temple / jacuzzi attached to the master bedroom. Plus Seattle has its own set of required architectural features that I don't know yet if I like (granite countertops, hardwood floors in the kitchen, crown molding along the ceilings and doors, ...). Crown molding ... now, if that was hollow and could be snapped on and off, you could run all the wiring through that, and you wouldn't have to tear apart the walls to get to the wiring. But no, it's just decorative.
Non-custom houses are built to please everyone all of the time. Is this the best approach? Would it be better to divide people into four or five groups, and build houses targeting one of those groups? The builder said they used to wallpaper houses, but invariably whoever bought it wanted different wallpaper. Maybe he's right, maybe house buyers can't be divided into groups. But it seems unlikely.
---
Common Californian architectural features that I want to avoid:
Concrete slab, no basement
Cathedral ceilings
Wooden exterior walls
Garage stuck out in front of the house
Split levels
Front door many steps up from the ground
No closet space
Wood shingle siding
Washer/dryer in the center of the house
Several small square bedrooms (10'x11', 9'x10', or such)
A 20'x20' or bigger master bedroom (with cathedral ceilings)
Multistory whole-wall windows
Normal life requires constantly going up and down stairs
A water temple / jacuzzi attached to the master bedroom
Required features:
Expect a 60'x90' lot, most likely on a hill. 60'x90' seems standard. Flat areas in the Bay Area amplify quakes.
Exterior walls are bugproof, quakeproof, and good for at least 400 years. (I expect that to be satisfied by 12" RASTRA. Aerated concrete might work too, but I'd want to see how it's reenforced and how it does in earthquakes.) (Update: I am told everything built with RASTRA has rat problems, because rats can chew through it.)
First floor plus full basement.
Total square footage (including basements, excluding the garage and open areas of the roof) should be over 3000 sq ft.
16' to 18' diameter (inside) round tower. (This is easy with 12" RASTRA, it would mean 18' to 20' diameter outside.)
Try to make the house look smaller than it really is.
Aim for old, quaint, possibly ancient, definitely not modern or avante guard. Think victorian, western, medieval, maybe arabian. Unrecognizable style is OK too. It's going to be old much longer than it's going to be new.
The tower has a second floor with stairs going up to it. It's a QUIET bedroom (the "master bedroom"), opening onto the roof, plus a full bath that is not in the tower.
Flat leakproof roof with 5' fence (railing? parapet?) capable of supporting 100 psf dead weight wet. It should cover the whole house and garage. I want to be able to plant a garden on the roof, let children play tag on the roof, do astronomy from the roof, put solar collectors on the roof, and let someone sunbathe on the roof naked without the neighbors seeing. (Astronomy and sunbathing may be better satisfied on top of the second floor tower rather than on top of the first floor.) The roof should be easily repairable, and not prone to leaks. I want flowers visible along the walls of the roof, like the balconies in Italy. The roof probably needs a very slight slope so water won't pool on it.
The exterior walls are good for 400 years. That means the interior is going to be ripped out and remodelled several times over the lifetime of the house. Make that as easy as possible.
Dishwashing. Dishwasher next to the sink. Dish drain next to the sink. Counter for dirty dishes next to the sink. Cabinets for clean dishes and silverware next to the dishwasher. Wastebasket next to the sink. Dinner table near the dirty dishes counter. "Next to" means you can get from one to the other without moving your feet. (I assume this means sink, counter to one side, dishwasher underneath counter, cabinets above counter and further to the side of the dishwasher. Other side has a dish drain with a wastebasket underneath.)
Cooking. Counter space on either side of the stove. Pots, pans, knives, cooking utensils next to the stove. Fridge, sink, and pantry are near the stove. (I assume this means a dishwashing area near the cooking area, with the sink on the edge of both, dish drain between sink and cooking area.)
At least one full bath per floor.
You could live all on the first floor if you needed to. The second or the basement, too, if some remodelling is done.
First floor must have at least two (possible) bedrooms, a kitchen, a dining area, a full bathroom, a washer/dryer room, a front door, and a coat room that opens into the outside and/or the garage.
Bedrooms are protected from street noise and street lights.
Most bedrooms at least 130 square feet, not counting closets.
Window to the outside over the sink.
Washer and dryer adjacent to the outside to vent air.
Bathrooms have a window to the outside.
Big floor drains in washer/dryer room, bathrooms, water heater.
Nothing, except a coat room, can open up into the garage.
Not just a tree of hallways -- walking a loop must be possible on the first floor. It doesn't have to circle the whole floor. Very important for walking babies to sleep, and letting kids run off some energy.
Everyplace can be reached by hallways that are at least 3' wide.
Lots of storage.
Lots of bookshelves.
Short walk from the car to where you put groceries.
At least 20'x20' of concrete driveway.
Garage inside is bigger than 20'x20'. 20'x30'? 24'x24'?
Every floor must be reachable by a stairway at least 3' wide.
No two rooms are the same. This gives the house more options.
If the walls of rooms are going to be lined with furniture, make sure halls and entryways are not flush with those walls. Make the halls bigger, or have the entryways 2' out from the walls, so walkers don't have to dodge furniture.
Optional rules:
A subbasement in the tower (the "cellar").
The tower should be in the center so it splits up the roof. If you wanted to play ball on the roof you'd need the tower to the side so you'd have to whole roof together, but you'd always be losing the ball, so that's not realistic. A split-up roof has more corners, can be more varied, and each piece is more human sized.
First floor ground level in front, basement ground level in back would be nice. That would allow windows in some of the basement.
A second way into the kitchen would be good.
6' for walking in the cooking area, so the cook can be walked past easily.
All hallways are 4' wide.
All bedrooms should have windows to the outside.
3' alcoves with 2' benches, with storage in the benches.
Line the curve of the tower that is inside the house with bookshelves.
The inside of the tower, all floors, is open ("round rooms"). No subpartitioning the round rooms.
Curved stairway along about 1/6th of the tower, nested on top of one another, from the second floor to first, then first to basement, then basement to cellar.
Second set of stairs from the outside ground up to the roof.
Stairs outside from driveway down to back porch, between house and garage, would be kinda neat.
Minimize distance of all plumbing from the hot water heater. Try to put the bathrooms on top of one another and the sinks and washer/dryer near them.
Keep the washer/dryer as close to the bedrooms as possible.
Basement extending under the garage would be good, if the technology required for dealing with the roof could handle that too. Might make a good workshop. Otherwise nevermind.
Possible how-to's:
Building a house on the San Francisco peninsula means buying an existing (tiny, decrepit) house and tearing it down first, which will cost $1,000,000. Lots seem to be a standard of 60 feet by 90 feet in Foster City. That alone means I won't build anything.
Construction costs across the US are about $100/sq.ft., ranging from $70 to $130. That would mean roughly $400,000 for a 4000 sq ft house. Except here in the Bay Area, where it's $300-$400/sq.ft., meaning $1,200,000 to construct a 4000 sq ft house. That completely rules out me ever building anything here.
The ceiling may be 2' thick, to hold the I-beams or whatever it takes to hold up such a massive ceiling. The interior walls may need to support weight, or they may not. A flat, maintainable, leakproof roof capable of supporting 100 psf may be completely beyond mankind's abilities at the moment. The ceiling requirements are my biggest unknown.
If the house is deeper (going into the backyard) than it is wide (facing the street), that makes the house look smaller than it really is. Also, you can't see basements from the street.
Put the water heater in a bathroom. They both need drains.
Forced air seems the way to heat. It takes care of air circulation, heating, and cooling all in one system.
The tower in the back would keep it away from street noises.
Those metal or plastic fences used in play structures could be used around the roof.
Drivers get out of the left-front doors of their cars. This suggests putting the garage on the righthand side of the house.
---
Here's the current most favored floorplan: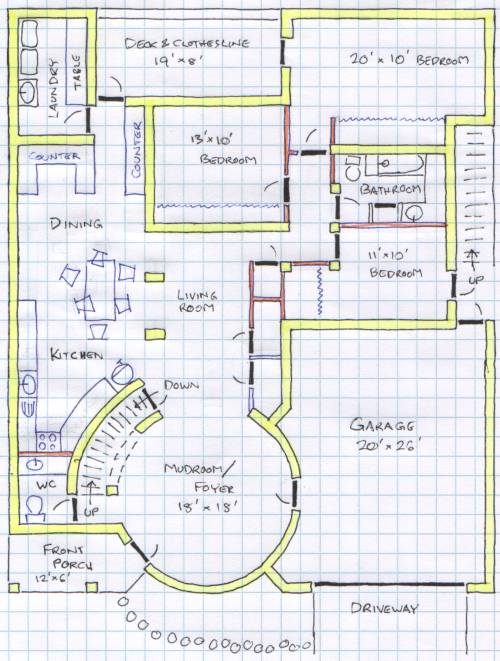 Justine wanted me to keep a record of progress on the designs. So, here it is, earliest to latest.
This design is pretty far off the beaten path. There are many features (RASTRA, flat fenced-in roof, subbasements, round rooms) that almost never appear alone, let alone in combination. The only way I'll find a house like this is if I have it built myself.