Floor plan C
Previous plan
Top house page
Next plan
Here I've decided that if space is at a premium, it's better to fill my land with house than with driveway. The house wraps around the garage, and the garage is level with the front of the house. I don't want the garage to stick out beyond the house, because I think that's ugly, but I can see the motive for doing it that way.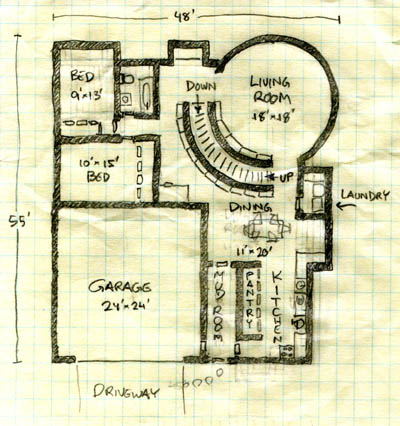 The front door opens into a mudroom, and the rest of the front of the house is now the kitchen. The bedrooms are nicely tucked in back, away from the street. The tower is in the back corner of the house, meaning the tower basement is at ground level and has 180-degrees of possible windows. You can see I was playing with alcoves. The width of the house is now only 48 x 55 feet, which should fit on most lots.
The kitchen is still sort of cramped. That could be fixed by extending it to the side 3 feet, extending the alcove in the dining area. The kitchen sink window looks sideways, which may be into the wall of the neighbor's house. The laundry, bathrooms, and sink are nowhere near each other, which means you'll have to run the water a long time to get hot water. The dining room is not well lit. There's a dark hallway going to the bathroom and bedrooms. The long hall lined with bookshelves is dark, too. I probably shouldn't have included that closet against the garage in the long hall; the space would be better for a desk.
Previous plan
Top house page
Next plan