Floor Plan F
Previous plan
Top house page
Next plan
This is about as tight as I can squeeze this class of design: 40x45 feet. You can see that many features dropped out, such as the second stairway up to the roof, the second bedroom on the first floor, the mudroom, the long room, almost all the closets, and the hallway (which was replaced by walking through the round room).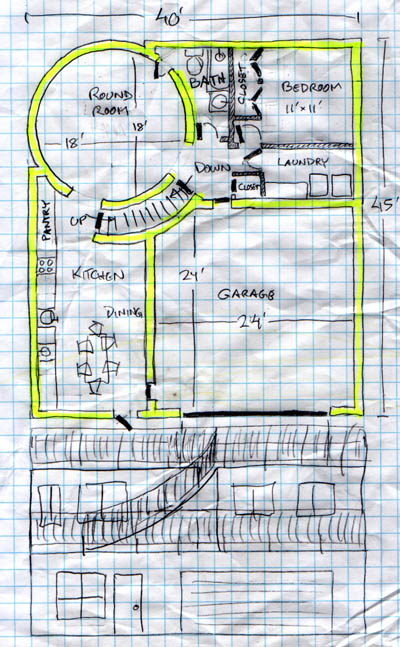 The second bedroom would migrate up to the second floor, sitting on the other side of the stairway as the master bedroom, with the bath stuck in between as on the first floor. A room under the garage would make sense with such a small footprint.
Given the second floor extending across the back half of the house, the room under the garage, and the subbasement, the living area (not counting the garage or the roof but counting the basements) would come out to about 4000 square feet.
Two bedrooms on the second floor, one on the first, one or two in the basement. Why is the laundry on the first floor? Well, it fits, and it's sort of in the middle of all the bedrooms. The first floor bedroom is a little small. The kitchen and dining area worked out pretty well, though, I think. I didn't skimp on the garage because I've only got one garage, while the rest of the rooms could migrate to other floors, and the kitchen wasn't really suffering because of it.
Previous plan
Top house page
Next plan