Robert James Lowry
Parents
Born April 7, 1854 in Mount Forest, Ontario
Died 1919 in Buffalo, New York of the flu (about the same time and in the same house as his son George DeLawson)
Married to Catherine Mehlenbacher (b March 28, 1856) with children

George DeLawson Lowry (b January 17, 1880)
Thomas William Lowry (b January 14, 1882)
Robert James Lowry, Jr (b July 14, 1884)
Louise Lowry (b October 3, 1886)
Paercy Lowry (b December 1, 1888, died at age 13 or 14 by falling down an elevator shaft)
Katherine Wilhelmina Lowry (b January 28, 1891, died the same year)
Agnes Alfreda Lowry (b 9 May 1893, died)
Mina C. Lowry (b about 1894, died 1942, prodigious artist)
John Michael Lowry (b about 1900)
---
Helen Lowry says:
The Lowrys came to the US from Canada - I think my father was born in Ontario but family moved to Buffalo around 1900 - the year of the Pan American Exposition. He was born in 1879 and came to Buffalo with his Dad. The others followed a year later. All born in Canada except John, around 1900. I think Grandpa Lowry (now that I think of it I'm not even sure of his name - but I believe he was Robert -) sold band instruments - maybe even uniforms. He became bedridden I suppose when he was around 50 -+ I never ever remember seeing him out of bed.

I doubt very much if Grandpa L. was much of a business man. The Lowrys were all dremers (the Irish in them?) ... Grandpa Lowry knew the other big theatre owner in Buffalo - a man named Shea - and was offered a partnership but it never came off. Don't know why. [Living] says Grandpa L. lost the use of his legs - he thinks perhaps GOUT might have played a part. I'm right - both he and [living]'s father were Robert James.

By 1906 - all the family were together and living at 356 Front Street, Buffalo. That was long before I knew anything about them. I only remember a rather dingy old place on 14th street in Buff. - later to become all Italian + who knows what now (1980's) - probably black, because Even in my old neighborhood - blacks were encroaching within a few blocks from the west side. They destroyed the area whenever they moved in, it seems - but that's a problem for society + not to be digressed upon here.

There's a note about Grandpa L. being a bandmaster + even featured Mdm. Schuman-Heink + Jenny Lind. These were outstanding Opera + concert stars in the early 1900's. You would find them written up in encyclopedias. We had records on Granda Foller's old wind-up "victrola" from both, as well as Caruso - and "The Two Black Crows" who sang "Whistler + his Dog".
R. W. Lodge has an old Lowry family bible showing Robert's children: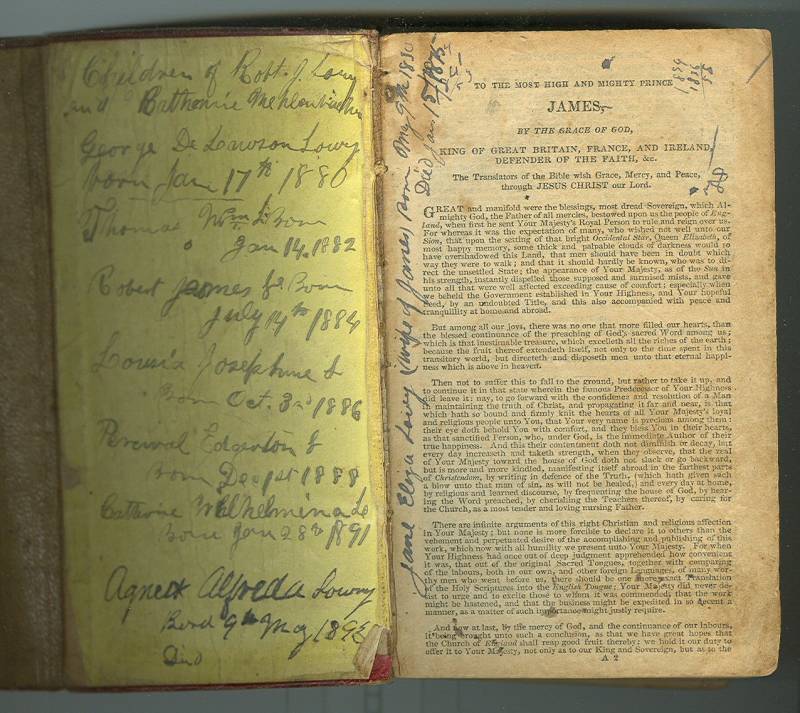 ---
index maintained by Bob Jenkins