Mina C. Lowry
Parents
Born 1894 in Guelph, Ontario, Canada
Died December 20, 1942
---
Named Amina after her aunt Minnie (Wilhelmina), she always went by Mina. (I'm not sure of Mina's birthdate. There was a Katherine Wilhelmina born to this same family in 1891; that may or may not have been the same as Mina.)
Mina was a prolific professional artist. She moved to Buffalo with her family in 1901, then to New York, New York sometime before 1932. She did a lot of work for the National Museum and Queens Borough Public Library. There have many chalk drawings of dolls and toys and clothes by her online. They quote her as the artist, but really she was playing color camera for them, it's the dolls and toys and clothes that they're really displaying. (The market for portraits largely dried up with the Great Depression.)
Mina's the family's first successful artist. Her oil paintings hang in their homes. She's inspired several generations of artists. Here is an online gallery of her artwork.
Photos of Mina Lowry
An article in the Courier, May 5 1932:
Mina Lowry is another Buffalo artist who is winning an enviable name for herself in New York as a portrait painter, and her studio in West 57th street in the Rodin Studios, is a center of attraction for visiting Buffalonians who are interested in art. Miss Lowr, during her proffesional life in her home city, was noted for her lovely flowr paintings. She studied with Florence J. Bach, and won first price for modeling at the Albright Art School. However, her one great desire was to pain protraits, and going to New York she studied at the Grand Central School fo Fine ARts for five years, with the result that for three successive years she won gold medals at the exhibitions at the Grand Central Galleries.

Miss Lowry seems to have a keen realization of all the worth of the name Mrkw wave amaog and emotion, as well at fiirs form and substance, and her work shows a direct style with simple but effective brush strokes, and a strong feeling for color. She has the great gift of being able to catch not only the evanescent thing we call expression, but the inner spirit of the subject.

Miss Lowry's studio is characteristic of her love for beauty and color, with simplicity as the keynote. It is a large room with a alcony around it, and a big window facing the north. A few pieces of charming antiques, with bowls of flowers, and a long spray of apple blossoms expressing the joy of Spring, create a favorable atmosphere for her work.

Miss Lowry's latest achievment is a portrait of Toscanini's daughter, Wanda, which the famous counductor took back with him to Italy when he sailed.

One of the most fascinating portraits Miss Lowry has done, is one of Nina Morgana, the brilliant young artist at the Metropolitan Opera, and a former Buffalonian. Miss Morgana, a vivid brunette of the Italian type of beauty, is shown seated, with her face slightly turned in a three-quarter view. She is wearing an evening gown of ivory hued satin, and an effective touch of color is introduced by a rich wine colored sash that encircles the waist and is tied at one side wtih long ends. Long eearings of antique design add individuality. Miss Lowry's backgrounds are always a blending of subdued shades, which serve to enhance rather than detract from the artist's message.

Another interesting portrait of a Buffalonian of the Italian type, is one of Miss Bessie Bellanca. This might be called a smart portrait, if one may dare to use the word in connection with art. It is severely simple in style, and is a three-quarter canvas showing Miss Bellanca wearing a tailored suit of greyish tan and a blouse of soft brown, with turned, dow, pointed color, with which an orange tie lends a flair of color. He soft, brown felt sport hat, has an ungulating brim, and a gardenia in the lapel of her coat is an artistic detail. Miss Lowry has achieved a splendid piece of work in this portrait, with its easy careless pose, and its compelling vitality.

Two other portraits of Buffalo women, one of Mrs. Merrill B. Meyer, showing her in her quaint costume she wore in the play, The Man Who Maried a Dumb Wife, and which now hangs in the Theater School of the Buffalo Players, and the other of Florence J. Bach, are both excellent examples of Miss Lowry's work.
A scupture by Mina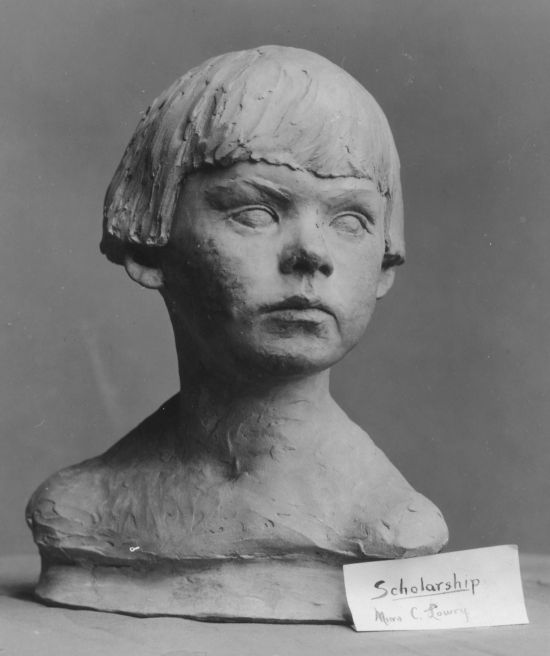 A portrait of Mina's mother, photo taken at a skew angle: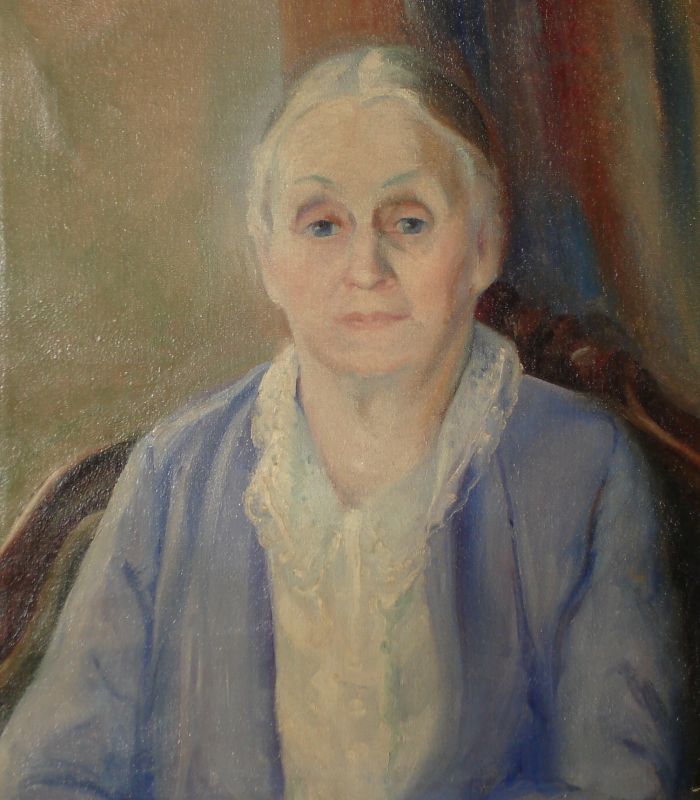 A letter from Mrs. Sedgwick to Aunt Lou after Mina died:
CITY FEDERATION HOTEL CENTER For Self Supporting Women and Students 445 WEST 22nd STREET NEW YORK, President MRS. WALTER NELSON SEDGWICK, Corresponding Secretary MRS. HERBERT C. SMYTH

Mrs. C. M. Sloan,
416 South Street,
East Aurora, N. Y.

My dear Mrs. Sloan:-

Your letter received, and I was indeed happy to hear from you.

I can well understand your feelings, and sympathise with you very deeply. Please have no doubts that Mina was a Genius. There was no question in my mind, or in those who knew her, of this fact. I wonder if you know that a great deal of the work which she accomplished was photographed and put in a book form by the War Department in Washinton, D.C. No matter where she worked, they recognized her great ability. Life at best is complicated, and it did seem that there were many complications which Mina faced. I remember so well the talk we had when you were her in the City. It would be most difficult to state as to the good or bad influence.

Mina's death was indeed a very great shock to me, as I had no idea of her illness. She had been in to see me a couple of times regarding Elena and seemed to be in perfect health. Elena informed me that Mina did not wish me to know she was ill for fear of worrying me; how I wish I had known of her illness, but how like her not to want to bother anyone. Now that God has called her home, I am sure that she is far happier than we who are left here in this world of chaos, for we certainly do not know what we are to face in the future. We who were accustomed to seeing her will miss her very much. She left many loving friends, and a great deal of her beautiful work is here for us to enjoy. Did you know that she painted a very magnificent head of Christ on one side of the Pent House outside of my office, and on the opposite wall, Michael Angelo's Angels, with white lilies below. It is a very beautiful piece of work, and everyone who comes to my Office stops to admire it.

Some day when you are in New York, I do hope that you will come to see me.

Trusting the beautiful things that I am sure you can remember that Mina accomplished in life will comfort and strengthen you, I am, with kindest personal regards,

Mrs. Walter N. Sedgwick
A portrait of Pat Congdon, daughter of the mayor of Buffalo, photo taken at a skew angle: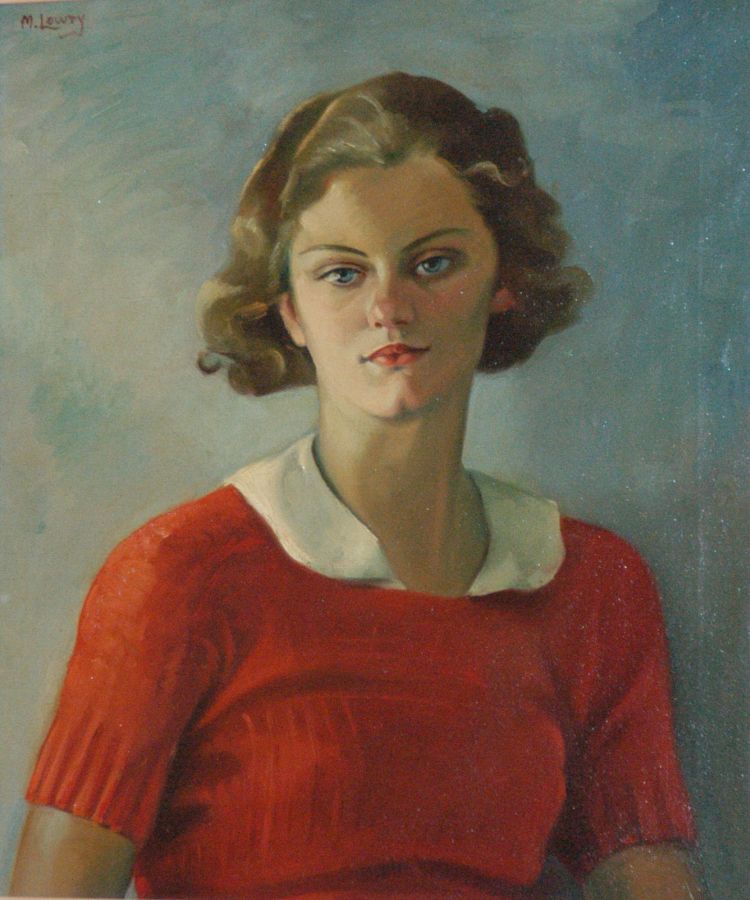 ---
index maintained by Bob Jenkins