Wilhelm George Ehlers
Parents

Wilhelm F. Ehlers (b about 1875, probably in Denmark)
Louise Boyens (b about 1875, probably in Denmark)

Born September 26, 1900 in Schleswig-Holstein, Germany
Died April 22, 1966
---
He went to school in Sonderburg, Denmark, and lived at #88 Perl St. His father wanted him to become a harness maker like him, but he didn't want to.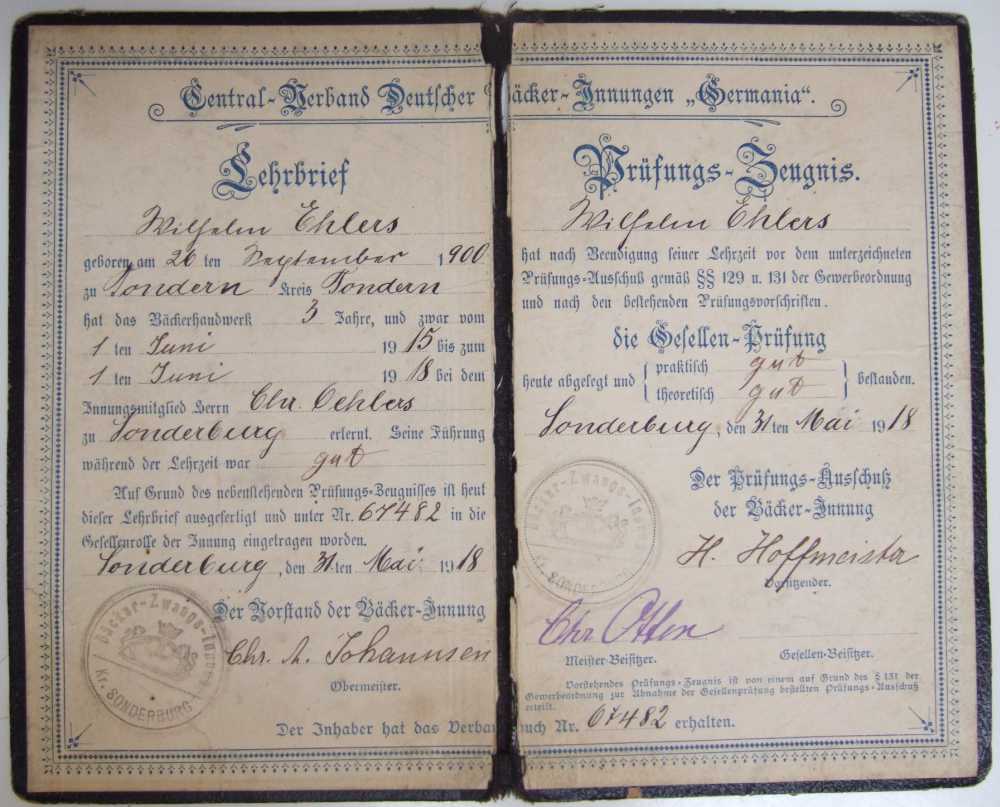 So he joined the merchant marines and worked in the kitchen.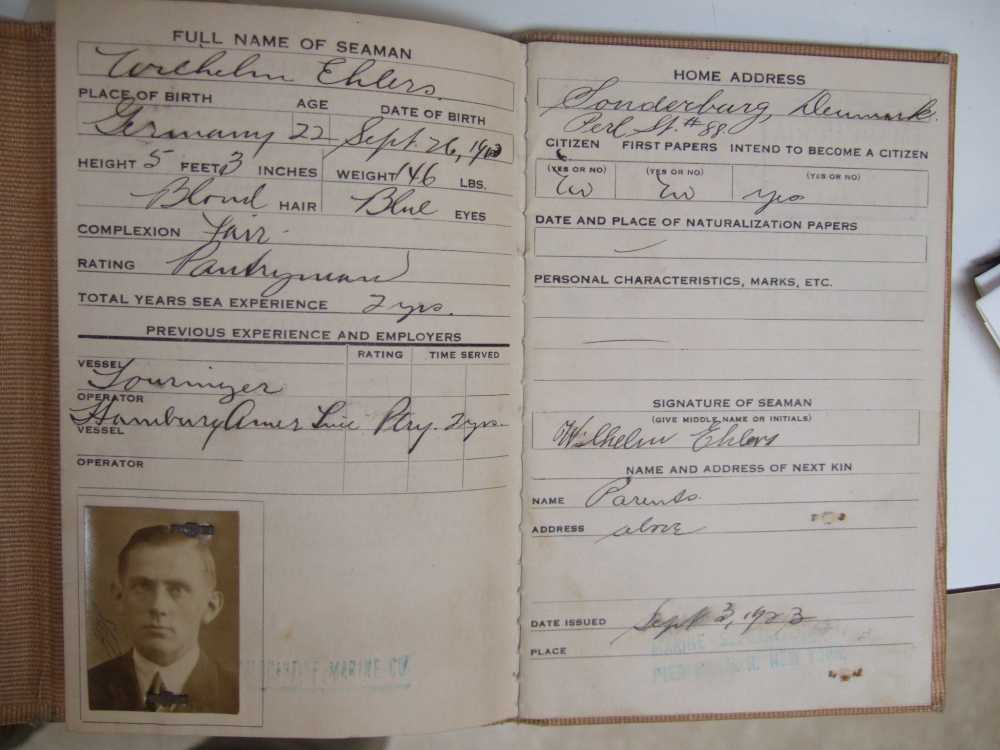 Continuous Certificate of Discharge, No. 26794
American Steamship Owners' Association
FULL NAME OF SEAMAN: Wilhelm Ehlers
PLACE OF BIRTH: Germany
AGE: 22
DATE OF BIRTH: Sept. 26, 1900
HEIGHT: 5 FEET 3 INCHES
WEIGHT 146 LBS.
Blond HAIR Blue EYES
COMPLEXION Fair
RATING Pantryman
TOTAL YEARS SEA EXPERIENCE 2 yrs.
PREVIOUS EXPERIENCE AND EMPLOYERS
VESSEL Touringer
OPERATOR Hamburg Amer Lim. RATING Ptry. TIME SERVED 2yrs.
HOME ADDRESS Sonderburg, Denmark. Perl St. #88
CITIZEN? no FIRST PAPERS? no INTEND TO BECOME A CITIZEN? yes
SIGNATURE OF SEAMAN Wilhelm Ehlers
NAME AND ADDRESS OF NEXT KIN Parents, above
DATE ISSUED Sept 3, 1923 (a stamp, MERCHANTILE MARINE CO.) (another stamp, MARINE SUPERxxxxxx PIER 02, N. R. NEW YORK)
NAME OF VESSEL: MANCHURIA 200690 NORTH ATLANTIC,
JOINING VESSEL: SEP 6 1923 NEW YORK asst. pantry wor
DISCHARGE: OCT 2 1923 NEW YORK
NAME OF VESSEL: MANCHURIA 200690 NORTH ATLANTIC
JOINING VESSEL: OCT 11 1923 NEW YORK (check mark)
DISCHARGE: NOV 6 1923 NEW YORK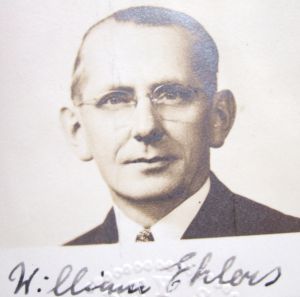 CERTIFICATE OF NATURALIZATION
Petition No. 6230
Age 45 male, fair complexion, blue eyes, blonde-gray hair, height 5 feet 5 inches, weight 165, scar on forehead, tattoo on left upper arm, married, German. William Ehlers, State of New Jersey, County of Morris. Be it known that at the term of the Common Pleas Court of Morris County, held pursuant to law at Morristown, New Jersey, on June 5, 1946, ... William Ehlers of Vail Road, Troy Hills, New Jersey ... admitted as a citizen of the United States of America.
E. Burtram Mott, Clerk of the Common Pleas Court.
On back: Name changed by Order of Court from WILLIAM GEORGE EHLERS, E. Burtram Mott
When he first came to the US, he worked as a chef on the megayachts, Rockefellers and such, ferrying people between Long Island and New York.
He swore, smoked, and was a generally unpleasant person. He refused to allow his wife to go back to Germany to visit her mother, because he didn't want to visit his parents, because his father wanted him to go into the leather business like himself. He had a farm, he worked as a chef and in a bakery. He didn't have any hobbies, nothing he did for fun. But whatever he did, he'd research it beforehand, then go into it. He tried lots of things -- training dogs, raising geese, raising strawberries, forestry. For a time, when they were in Pennsylvania, they'd go out into the forest with flashlights in the middle of the night and cutdown trees with handsaws. They'd only get one tree a night, sometimes it took more than one night to cut down a tree. He knew someone with a team of big horses that would come in and drag out the tree once it fell. The grass had to be greener somewhere else! He was in constant motion, always something going.
He was known in the restaurant trade, he could turn a restaurant around. He'd bring in his wife and kids, they'd clean off all the grease, fix the dishwashers, fix everything up. He was a great chef, and people loved his food. But once he'd turn things around, the owners would start chiseling -- "Did you really need to buy that prime beef? Couldn't you get something cheaper? Couldn't you use just skim milk in the pudding, and maybe add some food coloring?" Also, he'd take food home. "Oh, you can't take food home, then everyone'll take food home". He'd say, "Look. I'm the chef. I'm the one who put this place on the map. I run this place, I cook the food, and I'm going to take food home!" Ach, du lieber! And he'd get bored, move on, looking for greener pastures. He must have moved 10 times. He didn't spare himself, and he didn't spare his family. He never got sick.
One thing he really wanted was a party boat. He loved the ocean, he never got seasick. When he was growing up, he had a sailboat. But, getting a berth and a captain's license on the East Coast is no easy thing. There aren't many fish because the coast is all sand and the fish are only around wrecks. The location of wrecks are passed on from father to son, and so are the few berths.
---
index maintained by Bob Jenkins