Sophronia Foller (Fa"ller)
Parents

Corney Foller (b 1800)
Susannah xxx (b about 1825 in Baden, Germany)

Born September 12, 1849 in Baden Baden, Germany
Died after 1919
Married to John Frederick Snowble (b April 12, 1832 in L Gugenihof Canton Bern Switzerland)
Married to Henry Sheward (b January 30, 1844)
---
She was listed as Veronica sometimes, for example on the ship that took them to the US.
Here are Sophronia and Henry in front of their house in Dunkirk, New York. Henry was a pensioner who lost his right leg in October 1865 in the Civil War.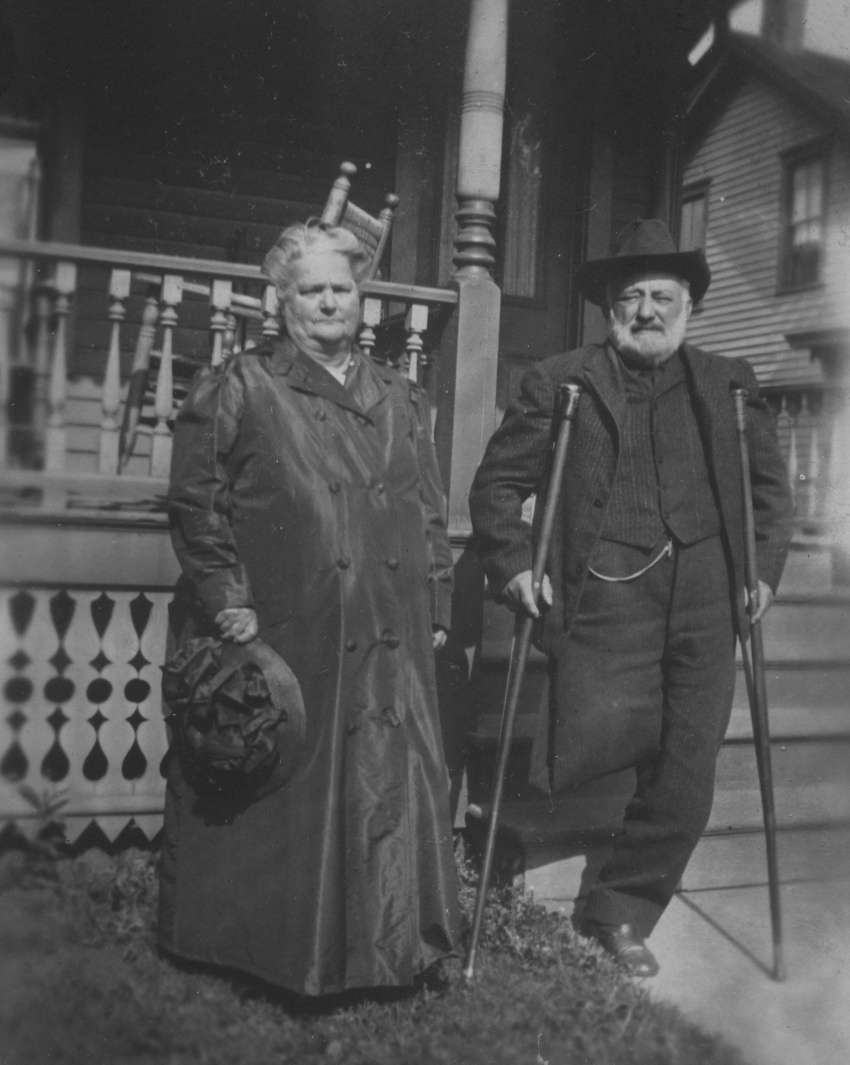 Here are (left to right) G'ma Foller (Mildred Lampkin), Henry Sheward, Aunt Fronie (Sophronia Foller) sitting, Ethel Mabel Foller, and G'pa Foller (Peter Paul Foller) holding Helen Lowry.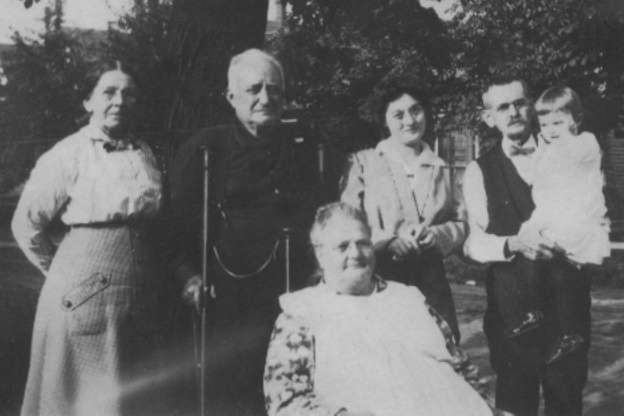 "Saphrone Snowble" was a sponsor of one of Peter Paul Foller's children who died near birth. Here's a note on her first husband, John F. Snowble:
SNOWBLE,
John F., Dunkirk, CC-60
John F Snowble ,
Enlistment Date: 23 September 1861
Distinguished Service: Side Served: Union
State Served: New York
Unit Numbers: 1570 1570
Service Record: Enlisted as a Corporal on 23 September 1861 at the age of 29
Enlisted in Company H, 72nd Infantry Regiment New York on 31 October 1861.
POW on 05 May 1862 at Williamsburg, VA
Paroled on 10 May 1862
Promoted to Full Sergeant on 15 September 1862
Wounded on 24 July 1863 at Manassas, VA
Discharged because of wounds Company H, 72nd Infantry Regiment New York on 26 July 1864 in Washington, DC
* Widow Sophronia pensioned 1885
* in 1880 they lived in Dunkirk, John born Switzerland is then 48 saloon keeper wife Sophronia 32 b Germany no children
* John is buried at Forest Hill Cemetery Fredonia, NY
Here is a list of her siblings.
---
index maintained by Bob Jenkins